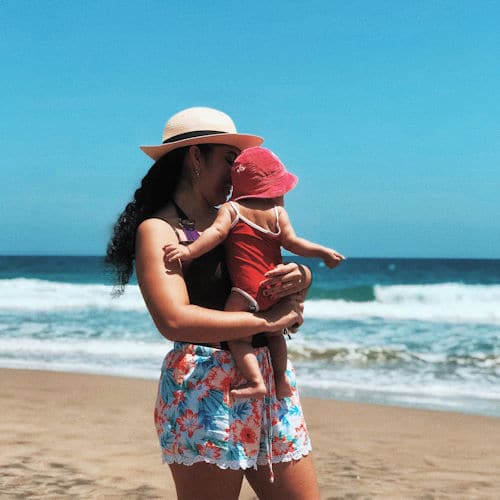 With the beautiful summer weather finally here, no mom wants to be trapped indoors. Whether it be day tripping to the zoo or jet setting to your favorite holiday spot, the life of moms on the go will sail much smoother if they have the proper equipment at the ready.
While to the untrained eye a stroller may be a stroller and a diaper bag a diaper bag, my deciphering eye says not. When making your baby gear purchases, it's important to consider the details. It's these details make the difference between getting out of house in a cinch and watching the world go round from your window.
Maclaren'sTechno XT Buggy. For moms on the go, it's imperative that their child has a comfy place to nap. Heartier than a traditional umbrella stroller but just as convenient, the Maclaren Techno XT Buggy has fully reclining seats , a five point harness system and an extendable leg rest. Since it's designed for children newborn to 55 pounds, it's really a stroller worth investing in. If you have two young children or if you're having twins, the double version has tandem style independently reclining seats and it fits through standard doors and shopping isles easily. Both the single and double can fit into the trunk of any vehicle and are lightweight, so they are perfect for taking on your travels.
Petunia Pickle Bottoms Glazed Boxy Backpack. Moms on the go need a diaper bag that works and wears well. Petunia's Glazed Boxy Backpack is roomy and has the perfect arrangement of inner and outer storage pockets, which makes things easier to find. It holds a few days worth of supplies and even boasts its own detachable and washable changing station. The exterior fabric is water repellent and can be wiped clean and the interior liner is water resistant. The diaper bag can go from backpack, to shoulder bag in a snap and you can even purchase valet clips that allow the bag to safely attach to your stroller. With the unique and fashionable fabrics Petunia uses, you won't be able to lose your bag.
BabyBjörn Travel Crib Light and Fitted Sheet. Bye- bye bulky pack and play and hello BabyBjörn Travel Crib Light. Whether it be a safe place to sleep at night or a comfy place to rest during the day, moms on the go will so appreciate BabyBjörn's Travel Crib Light. The portable crib has a simple set up, consisting of one single movement and closes just as easily. Its soft carrying case makes it easy to transport and store wherever your day takes you.
BUILT Neoprene Diaper Bag and Cushy Tushy Changing Pad. For beach going moms, BUILT's coordinating diaper and changing pads are perfect. Water resistant with a neat nylon drawstring closure, the diaper bag is sure to keep your essentials dry. The insulating side pocket is perfect for keeping your child's drink cool on hot days. Moms who hate the never ending process of digging out sand from the crevices in their beach bag can do so no more. The bag and changing pad are completely machine washable, so simply toss them in and let the washing machine do the work.
The Mommy Hook. For moms who enjoy shopping on the boardwalk or at the little boutique's in town, the Mommy Hook is invaluable. Simply snap the aluminum hook on your stroller and load it up with your bags. For traveling moms, the Mommy Hook can save your countless trips going to and from the car to unload your packed bags. Since the Mommy Hook can make your stroller top heavy, it's important to always have your hands on the stroller when using the Mommy Hook so it doesn't tip.
The Time Out Pad. Moms on the go often struggle with how to discipline their kids when out in public. The Time Out Pad is a light and portable pressure sensitive mat that can help parents keep their discipline method consistent when they're away from the home. With an adjustable timer and visual and audio countdown, your child won't have to guess when his time out is complete.
Squirt Baby Food Dispensing Spoon. Moms on the go often only have one hand free and that's all you'll need to feed your baby with the Squirt Baby Food Dispensing Spoon. No more packing jars of baby food and spoons or looking for the closest trash bin to toss your leftovers. Simply fill your spoon before you leave the house with up to 3 ounces of baby food. When you're baby is ready to eat, squeeze the bulb to dispense the food onto the spoon and voila! Your baby is fed. When you're done simply replace the protective cover, put it back in your bag and throw it in the dishwasher later, when you return home.
Bambino Mio Swim Nappy. Moms on the go must be prepared for everything. Not a child will pass up an opportunity to play in the water. With a water resistant inner layer, and leak proof legs and waistband, the Bambino Mio Swim Nappy is perfect pre-potty trained children. They're also soft enough and small enough to stick in the diaper bag so you'll be ready to play when your kids are.
Babybanz Sunglasses. For moms who enjoy spending their summer outdoors in the sun, eye protection sun is a must for their children. Babybanz sunglasses provide 100% UVA and UVB protection. With an adjustable neoprene strap and Velcro closure, they provide the perfect fit so little ones aren't tempted to pull them off. If your child wears prescription glasses, don't worry. The lenses can be replaced with prescription ones in a cinch.
BabyBjörn Baby Carrier Synergy. Sometimes moms on the go want to go where no stroller will take them. Whether you're navigating an amusement park, going for a walk in the woods or simply prefer to carry, rather than push your baby, the BabyBjõrn Baby Carrier Synergy is a comfortable and simple way to wear your baby well. Made of breathable mesh material, the Synergy is perfect to wear on warm days. The padded adjustable shoulder straps provide a perfect fit for most any mom and the extra support makes carrying your baby easier. The Synergy provides excellent head and neck support for your baby and allows you to carry your child in correct physiological position.
Before you head out this summer, evaluate your tools of the mommy trade carefully. Having the right equipment will allow you to make the most of your summer.