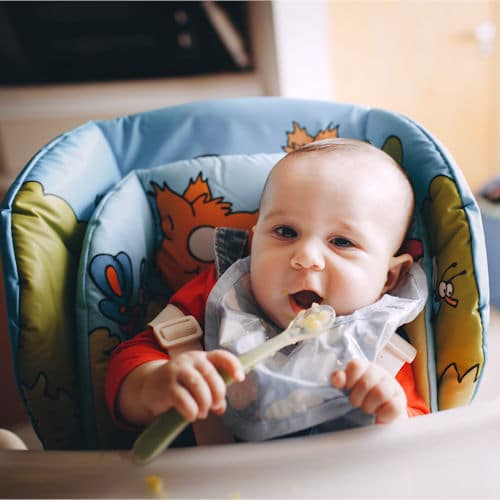 Many parents cringe at the site of their older toddler eating with their fingers, especially when they're eating non-finger type foods (like macaroni and cheese). Too often, parents forget or aren't aware that using utensils takes more fine motor control and coordination than most toddlers have. In fact, some children won't master the use of cutlery until they reach the age of four.
The good news is with a little planning, patience and a positive attitude parents can successfully introduce and encourage their toddlers to use their utensils.
If you're ready for your toddler to begin spoon feeding herself, follow these 10 tips to get her off to a successful start.
Evaluate your child's readiness. Many children will show an interest in self-feeding between 9 and 14 months, but it will be a bit longer before they have the coordination to actually feed themselves with a spoon. Unless you toddler has mastered the pincer grasp and can pick up small pieces of food to feed herself with her fingers and thumb, she's not yet ready to use a spoon.
Allow your toddler to hold a spoon while you're spoon feeding her. Toddlers who wish to spoon feed themselves will wage a power struggle over the spoon you're using. A simple way to avoid this struggle is to offer your toddler a spoon to hold during mealtimes. Try swapping spoons with your toddler after each bite.
Accept the mess. As toddlers learn to self-feed using a spoon, things will get messy. Consider using a floor mat underneath the high chair as your child learns to use a spoon. If you're concerned about your toddler's clothes, opt for a smock or have your toddler eat shirt free.
Get the right gear. You'll need a toddler size spoon and plate in addition to a good bib. BabyBjorn has a line of feeding essentials that are perfect for toddlers (I use their products and love them). Their line includes a spoon that has a short, perfectly shaped handle that is easy to grip, a rubbed edged plate that stays in place and has a three-leaf clover shape that makes it easier for the child to pick food up with the spoon and an adjustable bib that has a deep pocket to catch the food that doesn't quite make it to your toddler's mouth. All of their feeding products are FDA-approved for food use and are tested lead-free, PVC-free, phthalates-free and BPA-free. They are also dishwasher safe. BabyBjorn even has a great soft but sturdy smock for those extra messy meals, like pasta and macaroni and cheese.
Practice during playtime. Host a tea party and pretend to feed dolls and teddy bears. Praise her for feeding her friends well. Be sure to use spoons that are safe for pretend play.
Stick with semi sticky foods. Oatmeal, sweet potato and other foods that will stay on the spoon can help encourage your toddler's self feeding success. Avoid foods that easily fall off the spoon which will frustrate your toddler as she learns.
Be patient. Learning to use a spoon is a process. As she grows her coordination and fine motor skills will grow along with her.
Model good manners. Your toddler is watching you. Be sure to use your utensils properly. Model the proper way to hold a spoon and the appropriate amount of food to place on it.
Praise your toddler's efforts. Encourage your toddler's progress by praising early attempts at using the spoon. Comments like "Good job holding the spoon, you're eating just like mommy" will go a long way in helping to build your child's self-confidence.
Don't push it. If your toddler isn't ready, don't push it. Put the spoon away and try again in a few weeks. The more pressure you place on your toddler to use a spoon, the less successful she'll be.