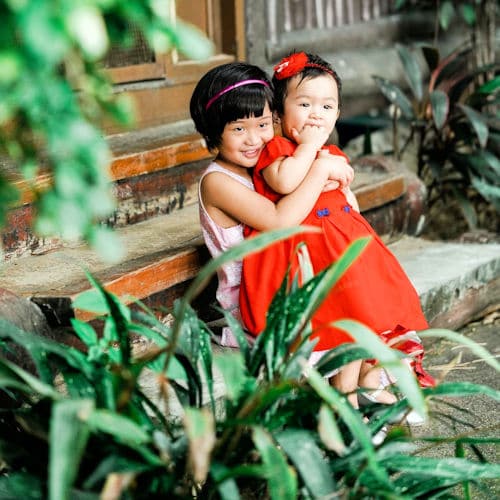 Any parent who has witnessed their toddler offer their toy or blanket to a crying child would agree that children are born with some level of empathy and a desire to help and comfort those in need. As children grow and develop, their ability to demonstrate kindness and compassion also grows and develops.
A two year old, for example may try to comfort a friend who is sad simply because she remembers feeling sad and knows what made her feel better, while a four year is beginning to understand why the child feels bad and may take appropriate action to offer comfort, like offering an apology if they've knocked the friend over during playtime.
Most parents would agree that raising a kind, caring and compassionate child is something worth striving for. Here are ten strategies you can use to encourage kindness, caring and compassion in your children.
Foster kind, caring and compassionate behavior. When your child acts in a kind, caring or compassionate way take notice and give her positive, purposeful praise. "I really like how you offered to share you snack with Jake. That was very kind." When you notice someone else being kind to you or your children, take time to point it out. "That was very kind of the man to hold the door for us. Be sure to thank him."
Be a role model. Children live what they learn and learn what they experience. If you want to raise a kind child, be kind. If you want to raise a compassionate child, be sure you're actively showing compassion. Let your child see you in action.
Treat people, including your children, with respect. How would you feel if you've waited in a long drive-thru line to get coffee, only to get to the window where the barista announces "We're closed?" That's how your child may feel when you instantly end playtime or make a transition without giving fair warning. Consider your child's feelings as you go about your day. Telling your child "Five minutes until cleanup" communicates that you value your child's feelings and time.
Have high expectations. Don't allow rude or unkind behavior. Be clear about what is and what is not acceptable in your home and layout the consequences for breaking the rules. "In our home, we don't call people names. If someone calls someone else a name, they lose a privilege."
Teach that words hurt. Remember when your parents taught you, "Sticks and stones may break your bones but names will never hurt you?" It's hogwash. Words can hurt, deeply. Teach your child the importance of thinking before he speaks and the reality about how his words can affect others.
Give your children opportunities to help. Provide opportunities for your children to show kindness and compassion. Volunteer at a local soup kitchen. Donate gently used clothes and toys to charity. Sponsor a child. Provide outlets for your children to see and meet the needs of others.
Let your children know that you care how they treat others. Communicate to your children that you care how they treat other people. Layout your expectations clearly and expect your children to live up to them.
Talk about body language. Coach your children to look at people when they're speaking. Teach them about different facial expressions and coach them to read non-verbal cues. "What does Ms. Kathi's face say about how she is feeling?"
Monitor media intake. What goes in will eventually come out. Children can't process everything they see and hear the way adults do. Take time to monitor what your children are exposed to and explain any mixed messages that they are getting.
Give unconditional love. If your child is too busy searching for love, he won't have the ability to hear or see others calling out for love. Show, tell and communicate your love to your child regularly. It's the most important thing you can do to raise a kind, caring and compassionate child.