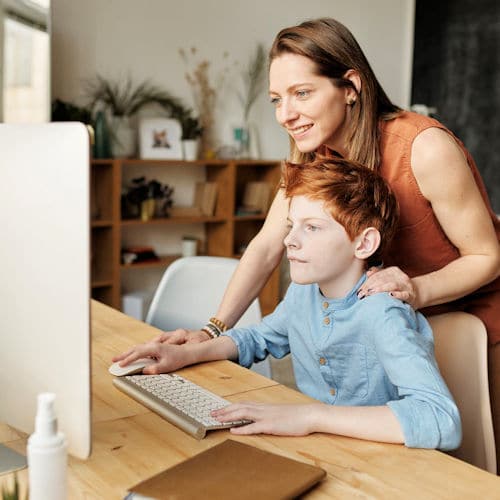 Motherhood is a full-time job. Whether you're juggling parenting, housecleaning, running errands and shuffling the kids from activity to activity, or if you have a part-time or full-time job in the mix as well, being a mom is downright exhausting.
Regardless of your situation, here are eleven things you can do to keep your head above water and navigate the often choppy tides of successfully managing life as a mom.
Make meals easy. After a long day at the office or running errands and transporting the kids, moms hardly have the energy to cook for the masses. Enter the slow cooker, a working mom's best-kept secret. Everything from frozen meatballs to whole chickens can be deliciously prepared, with very, very little effort. Just throw your meat in the pot in the morning and return home to the aroma of home cooking and to the flavors of a tasty meal. For busy families with picky eaters, quesadillas, English muffin pizzas, tacos and other meals that allow family members to customize their own fixings are lifesavers.
Secure your child care. Whether your child needs regular care during a transition to part-time or full-time work, or you just need a trusted haven for your child as you work on a project or catch some down time, the solution to child care isn't "one size fits all." While traditional child care arrangements like daycare and nanny care may be the first to come to mind, there are more options available. Take your budget and schedule into consideration and pursue alternative avenues, like swapping child care duties with a mom in your church or enrolling your child in a part-time child care program while securing friends or relatives to provide care on the off days. With a little creativity and a lot of planning, you can create your own child care solution that will work best for you and your pocketbook.
Delegate. When you're juggling kids, career and home, something has to give, or better said, get given away. Get your spouse and kids on board with pitching in around the home. Consider outsourcing your errands to a family member or friend who has offered to help you out. Use an online grocery shopping and delivery service to save you time-consuming trips to the store. You can save money by only purchasing what you need.
Spend a few minutes every day with each of your kids. A short bedtime story or a lighthearted chat in the car on the way to school can give you the time you need to reconnect with your child. Take time to appreciate and get to know each unique and precious gift you've been given.
Have a weekly date night. Spending time alone with your husband is vital to the health of your marriage. Remember, long after your kids leave the home, you and your husband will remain. Avoid becoming lost in your roles of mom and dad by scheduling private time together each week. From snuggling up and watching your favorite show after the kids go to bed, to heading out for a bite to eat, it's not where you are, but who you're with that counts.
Get yourself into a routine. When you have structure in your day, not only will your day go smoother, but you also will be better able to gently navigate the bumps in the road when they come your way. From having a set place for shoes, papers and other items that can throw a wrench in your day should they get misplaced, to having specific times and days for doing laundry, grocery shopping and other errands, a predictable schedule will help keep life more manageable and less chaotic.
Keep lists. Keep a small notebook in your purse with a running list of items you need at the store, projects that need to get done and daily appointments. You'll save time and money by making less frequent trips to the store, you'll save energy from having to cancel appointments when you've accidently overbooked, and you'll feel a sense of accomplishment each time you cross an item off your list.
Take 30 minutes (or more) each day to rest. Whether it's soaking in the tub, reading a chapter in a favorite book, or simply lying in bed alone, spend a few minutes each day on you. If you're not taking care of yourself, it can be hard to take care of others.
Learn to say no. Just because a task or commitment seems good, it doesn't mean it's good for you. It can be so easy to overcommit and take on too much. If we don't learn to say no, even to the things that may appear good, we won't have the time to say yes to the great things.
Get a mom-tourage. Behind every successful mom is a support group of family, friends and service providers who help make life more manageable. Become familiar with the strengths of those around you and with your church and community resources. Know whom you can call on when you're in a pinch and create a list of people you can depend on.
Think outside the box. From securing child care arrangements to presenting a unique job-sharing proposal to your employer to finding outlets where you can use your skills and talents to work from home, with a little creativity and research, moms can craft an employment or home situation that suits them best.