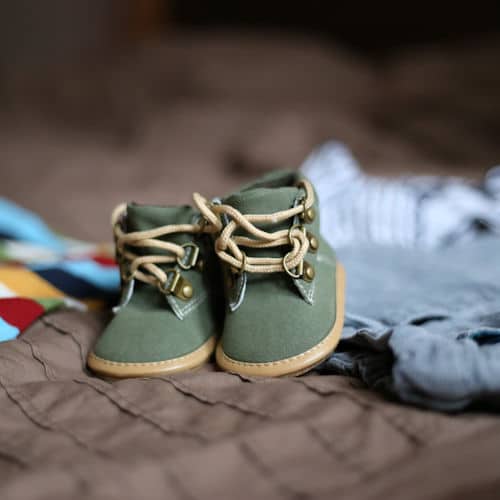 When it comes to children's first footwear, it's important to purchase the right type of shoes for your baby's feet. Children's footwear needs to mesh the right amount of support with right amount of flexibility, and finding that perfect combination can sometimes be a challenge.
In years past, parents were limited to purchasing plain white crib shoes for their early walkers, but today's parents have a never ending selection of fashionable footwear to choose from. When selecting your child's first few pairs of shoes, keep these tips in mind.
Until your child is confident on their feet, shoes are not necessary. While your baby is learning to walk, barefoot is best. With naked feet, your baby can best learn to balance and grasp the ground below, which will increase his or her strength, coordination and overall sense of stability. During the early walking stages, slip-on leather crib shoes like Robeez can be used to protect your baby's feet from harsh, hot or uneven surfaces.
Choose soft, flexible first shoes. First shoes should support, not constrict your baby's feet. They should allow your child to mimic walking barefoot. See Kai Run puts out a line of shoes called "Smaller" that is perfect for early walkers. They provide the necessary support, while boasting soles that are flexible enough to easily be bent or twisted in half.
Once your toddler becomes a walker, you'll need to invest in a good pair of walking shoes. Walking shoes should be lightweight and flexible. They should also have soft, nonskid soles. Look for shoes that cushion and support your baby's feet, but allow your child unrestricted foot movement. See Kai Run has a wide selection of fashionable and functional leather shoes that are perfect for little feet (my daughter has three pairs, they are so cute!).
Get the right fit. Like adult's feet, children's feet swell over the course of the day, so do your shoe shopping in the late afternoon. A good fitting shoe will allow for an adult pinky finger to be slid between the back of the shoe and the heel of your child's foot. It will also allow for a thumb's width between the end of the shoe and the tip of your walker's longest toe. Have your child walk in the shoes around the store and then take off the shoes. If you see redness or chaffing, chances are the shoes are too small.
Evaluate your child's shoe fit often. Check the fit of your child's shoe every month. Children's feet grow extremely fast and a good fit last month may be a bad fit now.