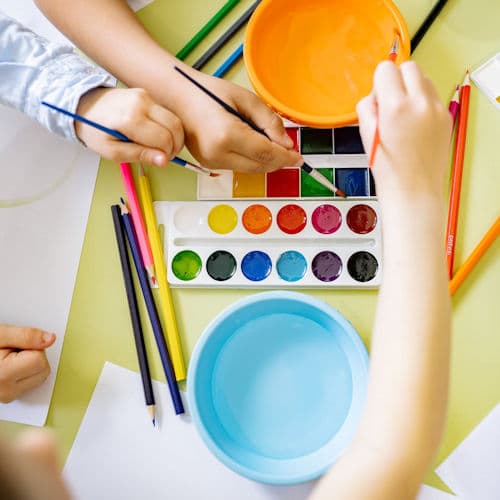 School art projects are possibly one of the most anticipated things that a child can bring home to his parents. Most homes have refrigerator doors filled with all sorts of wonderful fantasy projects, from green bunnies happily cavorting through purple grass to reindeer with hand print antlers and thumbprint eyes. There is nothing quite like the beauty of an innocent child's art project to brighten any day.
Unfortunately, there seem to be less and less art projects coming home to decorate that refrigerator door. More and more often the growing demands of the educational system leave less and less time for teachers to do art projects, even with children in the youngest grades. With budget cuts all over the country, schools are losing art teachers and art supplies, making those special lessons few and far between. Even in schools that have some resources available, teachers spend less and less time on projects as they battle to get kids ready for testing, progress marking, and other benchmarks of each grade. But it is important for parents to know that doing art projects is essential to the strong development of children. On many levels, the creative projects that were once so prevalent, especially in elementary schools, served purposes far beyond making parents smile.
Some children that struggle academically find that they excel in artistic pursuits. Having the opportunity to do something easily and well can help build a child's self esteem, especially if they have difficulty in other areas. Also, completing art projects helps children to develop important coordination skills. Coloring, cutting, gluing, glittering, painting, and drawing all can help develop your child's motor skills and hand-eye coordination. Many kindergarten teachers report that children who enter school with these basic skills have an easier time with the work presented, since they spend less time trying to learn both the skill being taught and the physical skills of cutting and coloring.
So when coupled with the dwindling resources available to students in school, what can parents do to help their child benefit from doing art projects? Here are a few resources to help you:
Plan a regular time for fun projects each week. By planning ahead for projects, you can help to make sure that having fun with art is something you remember to do. Let your child help choose the projects, and keep them light and fun, not 'homework' or 'have to'.
Keep a small supply of basic art supplies on hand at home. Crayons, colored paper, paints, glue, pipe cleaners, pom poms, and scissors can go a long way with a child's imagination and are not excessively expensive. Paper bags, newspapers, magazines, and wrapping paper all can be great materials and are often free, laying around the house. By having these items around the house, you can allow your child to explore their creative side whenever the mood strikes or an idea comes to mind.
Don't worry about what the end result is, but only that your kids actually make the project. Remember that half the fun of kids' art projects is being able to look at them and enjoy seeing how they see the world. Model good skills like cutting and gluing, but let them do the work. Only then will they get the benefits of the project, and you'll get a great art project for the refrigerator!
Let kids make a mess, but have them help clean it up. Art projects can get messy, no doubt about it. But, let kids express themselves, but also make them realize that they need to assist in the aftermath, too. When deciding how much cleaning your child should be responsible for, take into account their age and skill level. However, make sure that they understand that part of having fun with art supplies means taking good care of their tools and materials. Most kids can help with throwing away scraps, wiping tables, or sweeping up under craft areas.
Have fun with your kids! You don't have to be Picasso to do an art project with your children. There are craft idea sheets free at many craft stores, and the library is filled with idea books that you can use to get started. don't let your fear of art hold you back from having a great time with your kids!
Making unique art projects is one of the singular joys of childhood, and many parents wouldn't dream of parting with the pictures their kids bring home from school. But always remember that there's alot more going on with those projects that you see coming home. They're helping to develop your child's creativity, coordination, and communication skills every time they pick up a crayon. So take some time to celebrate art and inspire your kids!
Hey, parents! Is your school experiencing budget problems and considering cutting art, music, or other programs for kids? Learn more about how you can help your child's school keep some of these experiences available to students. Consider volunteering to do an art project with a class, or see if a donation of craft supplies to the classroom or art room would help. Keep informed of budget issues that impact your child's school experience and vote in your local elections to support your child's education. Keeping informed and active in education can only make it better for your child.