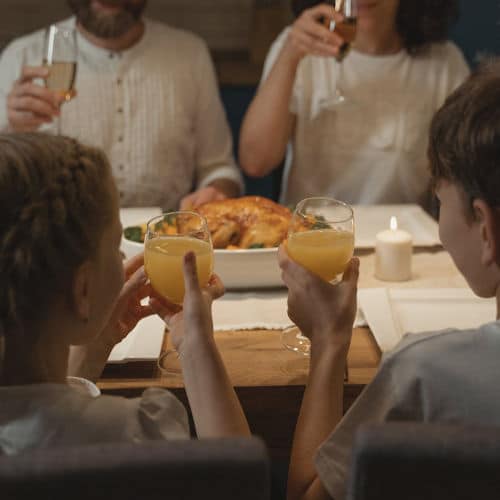 When you think of dining out with your family, do thoughts of kids banging their forks and chanting "We want food" come to mind? Or preschoolers trying to squirm out of their seats and play underneath the table?
If so, breathe deep. We have some great tips and practical solutions to help you divert the disaster zone.
From the moment you arrive at a restaurant until the time you receive your food you're walking a fine line between heaven and hell. At any moment, your little ones attitude could change resulting in a hairy situation.
So when dining out, what can you do to keep the kids calm and muddle your way through?
Preview the menu beforehand when possible. Many restaurants now offer their menus and nutritional information online. If you can log on and check out the menu before you head out you'll shave minutes off time between being seated, placing our order and ultimately getting your food.
Plan smart. When possible make reservations or drop in the restaurant around the time your family normally eats. If you know your dinner plans are later than your child normally eats be sure to offer them a small snack at their normal dining time. You never want to take a famished child into a restaurant. It's a recipe for disaster.
Seat smart. Generally speaking, families do better in booths. You'll have the option of barricading your kid in the middle of two grown ups or seating him on the inside between you and the wall. They're also convenient to put a high chair at the end so two adults can be handy to the youngster. When possible avoid sitting near the kitchen entrance and exits where wait staff is rushing around or in the center of the restaurant. Instead request a side table near the wall so you're out of the way of the hustle and bustle.
Be prepared. If you know your child is going to be confined to a high chair or a seat for a bit of time, bring things to occupy her. Small board books, crayons and a small notebook and magnetic travel games are all good options. Avoid toys with lots of pieces or toys that if lost or forgotten your child won't be able to live without.
Down baby. Unless absolutely necessary, leave your infant in her carrier. Taking baby in and out of the car seat usually ends up causing more problems than can be solved. When you've taken baby out just to play, it's going to be really hard to quietly get her back into her seat when you're ready to eat. And unbuckled infants are at a huge risk for injury. An older infant can kick there way out if close enough to a table or a busy waitress may accidentally bump the car seat that is propped on an upside down highchair.
Order smart. Placing your children's food order when the waitress comes by to ask what you'd like to drink will cut down your child's wait time and give you a few minutes before your entrée arrives to get him off to a good start. Let your server know it would be great if your child's food could come out as soon as its ready (so she won't hold the order until she takes yours). And since most kids meals at restaurants come with desert, you won't need to worry that he'll be finished way before you. Added bonus: you can offer gentle reminders that he'll need to behave appropriately for the wait staff to bring his dessert.
Offer an appetizer. If you'll be ordering a few courses or if your kiddo is especially hungry, be sure to have something on hand to offer him. If you don't carry an emergency snack with you (fruit snacks, cheerios and other small finger foods are great for toddlers) break the dinner rolls into small bite size pieces. This won't just help soothe his hungries it will help occupy his mind.
But if all else fails and your kids itching to move around, your best bet may be to have your husband (or any other adult your with) take him for a short walk to let out some energy. And if your own your own and your child is really acting up (and he still would fit), let him know if he can't sit still you'll need to buckle him into a high chair for his safety. For most kids who have recently outgrown the high chair, this threat will be enough to curb the behavior. But if it doesn't be prepared to follow through.
So if you prepare yourself, your kids and your diaper bag before you head out to a restaurant you'll be in for a smooth ride. Dining out with kids can be a pleasant experience when you take a little time to think it through first.