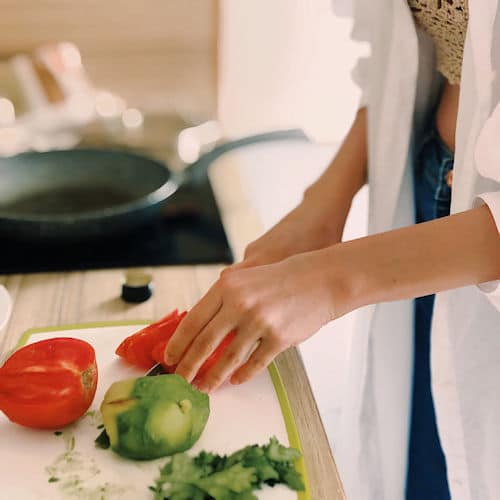 I often tell my friends, if it weren't for hot dogs, my kids would be vegetarians. If only they would eat some vegetables, that is. The fact is, we are not a vegetarian family, but that doesn't stop me from seeking out vegetarian meal ideas.
Like many parents, I often wonder how my kids haven't suffered from malnutrition, even starvation. Despite the fact that one lives on little more than milk while the other manages to survive on a diet that is mainly cereal and toast, they keep growing. Despite my threats that they will never grow big and strong if they don't eat more fruit and vegetables, they are in fact growing bigger and stronger every day.
And pickier. They won't eat what they know they don't like, and they are constantly adding to the list things that they used to like ("but I'm sick of it"). So whenever I get bored with my usual dinner menus, which is just about every week, I go through my cookbooks, magazines and the internet in search of some new dinner time magic recipe that the whole family will love.
Inevitably there will be meat as the center of those recipes, and I'm already tired of the 101 ways to serve ground beef or chicken. So what can the family chef do? Go Veg! I'm not saying every family should switch to a vegetarian diet, just step outside your meat and potatoes comfort zone and try Meatless Mondays .
Besides livening up the dinner table once a week, you will also be doing your part to reduce saturated fats in your diet, the ones that are found in meat and dairy products, the same ones that are linked to heart disease and cancer. Reducing the amount of meat on your plates also leaves more room for those all-important fruits and vegetables .
In my typical fashion, I've subscribed to yet another magazine for vegetarian meal ideas. My good friend who is vegan is always ready with a new recipe from one of her vegan cookbooks, and I am her well-fed guinea pig. You can also find all kinds of mouth-watering recipes on the internet for main dishes, snacks and desserts, too. Try a few at a time, so there's plenty of variety and something for everyone to enjoy. And invite your friends, or experiment on your kids' friends.
After a few practice runs, you'll be ready to celebrate World Vegetarian Day on October 1st! And maybe your kids and mine will finally be eating their veggies.