The Top 5 Water Filter Pitchers Reviewed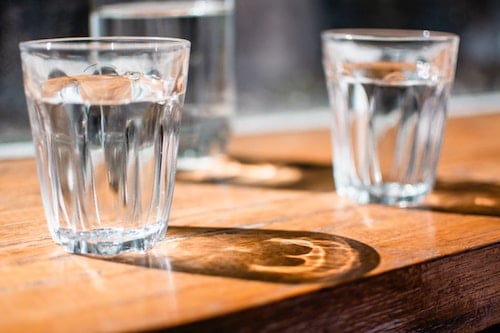 Very few municipal water treatment plants have the ability to rid your water of the most common overload of chemicals (like prescription drugs or fertilizer) and minerals that make the water hard and smelly. Water filter pitchers use carbon filters that extracts chemicals and minerals as the water passes through it.
The advantage with this device is that the initial cost is comparable to 3 cases of bottled water which may last a month for a family of three while the filter for a pitcher lasts about 2 months on average and is less costly to replace than buying more bottled water. This post contains the best water filter pitchers as of 2019.
Best Water Filter Pitchers
The slim design of this Brita water pitcher dispenser powered by a 5-year battery has a footprint of 7.25" deep x 14" wide and only needs 9" of head room on a counter or in the refrigerator.
The front facing spigot makes it easy to pour water into a glass while it's in place. This one is designed to reduce chlorine, sediments, zinc, mercury, lead, cadmium and copper. Filters should be replaced every 40 gallons or approximately every 6 – 8 weeks depending on use.  18-cups is approximately 3.5 gallons of water.
Unlike typical gravity driven water filters, ZeroWater uses a 5-stage ion-exchange filter that removes more minerals and chemicals than the carbon filter systems are able to do.  The footprint for your refrigerator is 15.25" deep x 6.12" wide and needs 12" of headspace.
The push button spigot faces front for easy access. This model includes an electronic water tester that allows you to test the water yourself and ensure that the filter is working properly.  It also includes a reader that gives you advance notice that the filter will need to be changed soon. The filter educes lead, chromium and mercury to a near-zero level as well as chlorine taste and Hydrogen Sulfide contaminants.
Sale
ZeroWater 23-Cup Pitcher with 3 Replacement Filter and Free Water Quality Meter, Blue
23 CUP WATER FILTERING PITCHER for cleaner, pure tasting water on hand with our BPA-Free filter, Includes a free water quality meter to test your water, so you never have to wonder about its quality.
USES FIVE STAGE WATER FILTRATION unlike many water filters & pitchers, to bring you cleaner, better tasting water. Uses Ion Exchange Technology to reduce contaminants.
NSF CERTIFIED to reduce lead and other heavy metals. Zerowater removes 99.6% of total dissolved solids, 2X more than the leading brand (tested by independent lab).
GET MORE OUT OF YOUR WATER with a variety of options, you can have cleaner water anywhere, from pitchers, bottle filtration systems, or portable on-the-go cup filters.
INCLUDES: 23-Cup ZeroWater pitcher, 3 Zerowater Ion-Exchange water filters, TDS (total dissolved solids) Meter
PUR claims that their filters will remove 95% of mercury and 96% of pharmaceuticals that are typical in tap water. In addition to that, it will reduce chlorine taste and most common minerals that make water taste, look and smell badly.
The footprint for this dispenser is 15.8" deep x 5.6" wide and needs 11" of head room.  It's filters should be replaced every 40 gallons or approximately every 6 – 8 weeks depending on use. Think about it; 8-cups is approximately 3.5 gallons of water.
If you prefer a hand-held pitcher that you can take your table, Mavea's 9-cup pitcher is one to put on your consideration list.  The filler hole is located on the top-back portion of the pitcher and because it is wider than most, it's easy to fill.
This pitcher comes in several colors – black, white, red, orange and purple – to match your aesthetic. One of the unique features of this tabletop pitcher is the indicator that notifies you in advance when the filter needs to be changed.
Mavea also offers a recycle program so that no parts of the filter end up in a landfill. The product is made in Germany; it's known for its excellent customer service and quality controls. The filter lasts approximately 2-3 months before needing to be changed.
The smallest capacity pitcher available from PUR is ideal for work place, apartment or motel refrigerators with a footprint of 10.12" deep x 4.75" wide and 11.5" high. This pitcher is the perfect answer for those who travel a lot where the minerals, chemicals and contaminants in tap water changes place to place and can cause intestinal problems for you and any pet you may have with you.
Filters should be replaced every 40 gallons or approximately every 12 – 18 weeks depending on use. 5-cups of this filter is approximately 0.5 gallons of water.
PUR 5 Cup Water Filter Pitcher CR-4000
The first leading pitcher filter to remove 99. 9-Percent of microbial cysts
Also certified to reduce chlorine (taste and odor) and more
Filters 40 gallons/640 8-ounce cups per filter, lasts up to 2 months
Space saving design fits in the fridge so you can have cold, clean, great-tasting water whenever you want
Our Patented, Secure-fit filter s unfiltered water won't mix with your clean, filtered water
Things To Consider Before Purchasing A Water Filter Pitcher
The most important thing when you are choosing a pitcher is to know how you want to use it and how long the filters will last before they need to be replaced. Filter replacement is an ongoing cost that many people forget to add to the overall cost of the product.
If you have high levels of heavy metals, you may want to explore more expensive models designed especially for your water problems. Regardless of which model you choose, it is cheaper than bottled water.
The Importance Of Water Filters
This video talks about why you should get a water filter for your home:
Last Updated on