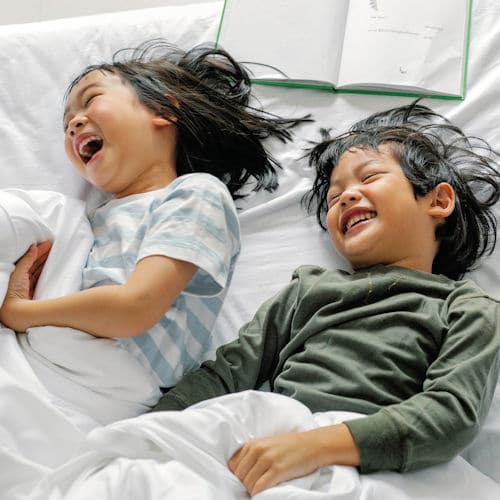 At the end of a long and exhausting day of dealing with your darling duo, the last thing you want to do is encounter an intense struggle as you prepare for sibling sleep time.
Almost as dreaded as mealtime, bedtime can be one of the most stressful events that a parent of two or more encounter during their day.
So what can you possibly do to end the struggle once and for all and help your siblings successfully snooze off? Here are six steps for a better bed time:
Have a routine. A basic bedtime routine should include cleaning up for the night (I suggest a warm bath or shower every evening followed by a thorough time of tooth brushing), getting into cozy sleepwear, reading a book or watching a bedtime appropriate DVD, taking a trip to the bathroom and finally heading off to bed. If you have a consistent bedtime and routine that you implement each night, your kids will come to learn and look forward to getting ready for bed.
Stagger sleep time when kids share a room. When you have two or more stagger the time they hit they hay. This gives you valuable one on one time with each child and usually makes it easier for the kids to fall asleep- especially since they'll have no one to mess around with.
Make the bedroom a sleep zone. Reserve the bedroom for sleeping only. This eliminates any confusion as to what's going to happen once you enter their bedroom. This is especially helpful when you have two or more bunking together.
Have clear rules. Set clear guidelines for what is acceptable and unacceptable at bedtime. Limiting the number of drinks, books and bathroom trips gives your children a better understanding of what is and is not okay.
Be consistent. Consistency determines how successful any routines, rules or guidelines will work. Kids learn by testing and when they see through the eyes of experience that they can't get away with breaking the rules, and that no amount of whining will change the routine, they begin to understand that the rules and routines don't change- and that there are set consequences for their actions and set activities for the night.
Separate when needed. If your siblings share a room and they just won't wind down, separate them. When you notice your kids are keeping each other up, calmly but firmly enter the room and give one warning. The second time, enter the room and remove the offending sibling.
So if you've been struggling with bedtime, try these tips and I'm sure you'll see your chaos turn to calm in no time!