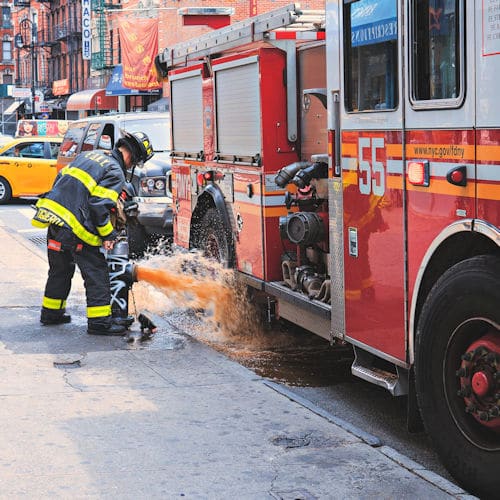 Everyone that has been in school at some point in their lives is familiar with the blaring ring of the fire alarm.
A school rite of passage for decades, the fire drill is a part of American educational life. What began years ago as a loud ringing bell has progressed to a deafening, pulsing, blaring signal, often paired with flashing lights. While the design of these alarms is created for maximum effectiveness and student safety, they are often so loud that students, especially younger children, can be positively scared out of their wits by the level of unexpected noise. If your child is scared about fire alarms in school there are some things you can do to help take the edge off of their fear.
First, talk about fire safety with your kids in their home, where they feel secure. It's never too early to begin discussions about who firemen are, what a family escape plan is, or how to get to a neighbor's house. For your youngest children, begin talking about who firemen are and make a point to notice passing fire trucks or fire stations as you travel around town. As kids get older make an emergency escape plan for your family and agree on a meeting place if there ever is an emergency. Make a game out of family practices, using fastest time to get to the meeting place as an incentive. In the summer, make the practice unexpected, yet fun, so that kids get used to doing an unanticipated "fire drill' at home, just like they will at school.
Next, let your kids hear what your home fire alarm sounds like. If you haven't burned to toast and set it off accidentally lately, there is generally a test button which will allow you to sound the fire alarm without damaging the sensor itself. Let your children see that the noise won't hurt them, and they will be less likely to be afraid of the noise at school. Check with your alarm's user manual to determine if there is a test button for your particular system. Make sure that everyone stays calm during the test so your child sees there is no need to panic because of the noise they hear.
If your child's fear about the school alarms is still present, have a short meeting with your child's teacher to explain the issue. They can be sure to check in extra times with your child during a fire drill, or they may be able to devote extra class time to discussions about what happens during a fire drill. Often when students have a chance to talk about their fire alarm fears with their classmates, they will realize it's not as scary as it seems.
Many parents ask teachers to inform their children before a fire alarm goes off or remove their child from the classroom before the alarm sounds. While this may solve the immediate fear problem, it really is not the best solution. Students need to know what to do in case of a real emergency, and practice in this case, does make perfect. The more often kids practice what to do when the alarm sounds, the more likely it is they will do the right thing with their classmates in the event of an actual emergency. Also, many times teachers do not know about the drills in advance, so to promise a student they will always know about the sound ahead of time is just not feasible. In very rare circumstances removing the student is the best option when possible, but only a discussion between you and your child's school officials and teacher will be able to make that determination.
Have you tried everything and your child's still afraid of the school alarm sounding off during the day? As a parent, make an appointment to talk to your school psychologist or school adjustment counselor for help. Many children need some help to overcome issues, and these professionals are trained to use different techniques for helping students overcome school-related fears. The counselors may be able to offer both school and home activities that can help alleviate fear over time. If your school does not have counselors available, or if your child's fear stems from a medical issue, contact your pediatrician for recommendations on how to best deal with your child's fear.
Fire alarms are certainly no fun for most young children (or even adults, for that matter!), but learning what to do when they sound off is an important part of life. If you can find small ways to work with your child's teacher or counselor and in your own family on fire safety, over time students can learn to live with this annoying part of school. When students learn to manage their own fear they not only stay safe, but learn important life skills about facing their own fears as well.