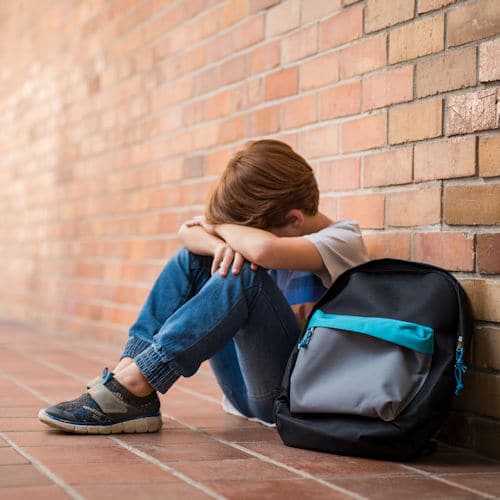 However, today's schools are much more aware of the long-term difficulties that bullies can cause to their victims. Low self esteem, depression, and even increased chances of dropping out of school can all be related to a child being subjected to abuse by a school-house bully. In addition, the escalation of violence in today's society can lead to dangerous conflicts that arise from bullying.
With this knowledge, most schools are taking a more proactive approach to combating bullying. Education programs are underway in many districts, letting kids know exactly what bullying looks like and how they can stop it. Peer mediation groups are also forming in many schools in an effort to help children learn how to settle their own differences, while also learning valuable skills for the future. Though there are many ways schools can try to help children, there are also times when schools simply are not aware of the problem. If your child is the target of a bully, don't be afraid to get involved. Here are some tips for handling the situation:
Be involved in your child's life. Children are notoriously tight-lipped about their school day. However, with a little time and a lot of patience, parents can learn more about their children's school experience. Though life is busy for everyone in this day, it is important to take time to ask about and listen to the daily goings-on of your child. By taking the time to talk on a regular basis, your child is more likely to come to you for help if the need arises. Also be aware of who their friends are; friends can be a positive influence on a young mind or not, depending on the social dynamic between them.
Talk to the child's teacher. Teachers often have the opportunity to watch children interact in social situations on the playground, in the cafeteria, and in the classroom. They may be able to detect and monitor interactions between specific students. By alerting the teacher of your child's particular problem, they may be able to help document and understand the dynamics of the situation more completely.
Involve the school counselor or psychologist. Many children are uncomfortable talking about difficulties they may be having with peers. However, school personnel are skilled at helping children to work through problems, including managing stress and understanding how to deal with bullies more effectively and safely.
Watch for changes in your child's behavior patterns. Does your child try to avoid school with mystery illnesses? Are their grades dropping? Are they having difficulty eating or sleeping, or are they extremely moody? While some of these signs are typical for young adolescents in the short term, be aware that changes that persist for more than a few days may be signs of a bigger problem. Children who are experiencing difficulty with peers at school may be hesitant to involve an adult; however, if you spot these signs in your child, you need to get more information quickly.
As always, the best cure for the problem is prevention. Girls and boys should be talked to from a young age about what kind of behavior is appropriate to both give and accept. Students need to know that what may be funny to one person is often incredibly hurtful to the recipient. If you have more questions about preventing bullying, please contact your child's school counselor or principal, as they can give you information on appropriate programs in your area.