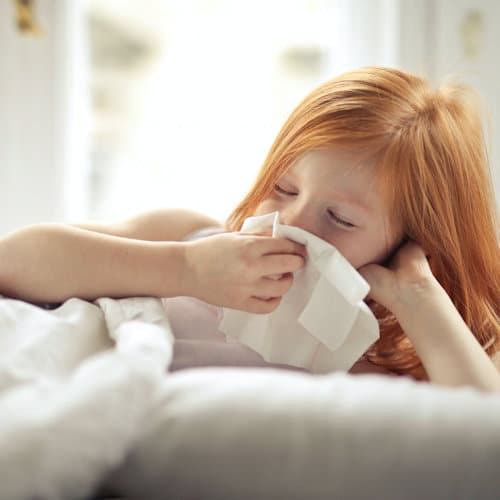 If your child is spending time in daycare or otherwise being exposed to large numbers of children, chances are, he's going to be exposed to lots of illnesses and communicable diseases this season. While the spread of all illnesses and communicable diseases to your child can't be prevented, the good news is, parents and children can take some practical steps to stay healthy.
To prevent the spread of illnesses, parents need to have a clear understanding of how germs spread.
In a group daycare setting, germs are introduced into the environment by an ill child or caregiver. The germs then must survive in the environment. Some germs live in the air, some in water, some on surfaces, some in feces and some in food. Another child then comes into contact with the germs by touching an infected surface, eating infected food, breathing infected air or drinking infected water. A child could become infected simply by shaking the hand of a child contaminated with feces, sharing a toy with an ill child or drinking out of another child's cup. And so the cycle continues.
Parents can help keep their children healthy this season by following these five tips.
Teach your child how to properly wash their hands. Children should first wet their hands with running water. They should then spread liquid soap over their hands. Next, they should rub their hands vigorously together, focusing on the back of the hands, the palm of the hands, between their fingers and under their fingernails. Children should then rinse their hands thoroughly and turn off the water using a paper towel. Encourage your children to sing through their favorite song two times to ensure they are taking enough times to properly wash. Parents should supervise their child washing their hands upon arriving and before leaving daycare and instruct their children to wash their hands after using the bathroom and before and after eating. Caregivers should wash the hands of younger children and babies several times throughout the day.
Parents should encourage caregivers to be proactive. Talk to your childcare provider about the importance of using gloves to change diapers, of washing their hands throughout the day, of keeping hand sanitizer handy and of enforcing sick policies for staff and children. Be sure to ask them to help keep your child healthy by disinfecting toys that have been in children's mouths and by discouraging children from sharing food. Ask about the centers day end cleaning procedures and encourage them to follow them carefully.
Keep your child home when he's sick. If you want to stop the vicious cycle, keep your child home when he is sick and until he is fully recovered. Follow all sick policies and procedures that your daycare center has outlined. Don't give into the temptation of sending your child to daycare with a dose of pain reliever in his system. It's not fair to your child, the other children or the adults caring for him.
Consider immunizations. Many childhood illnesses and communicable diseases can be prevented by immunizations. Talk to your child's healthcare provider about the benefits of vaccinations.
Boost your child's immune system by ensuring he's eating a well balanced diet and that he gets enough sleep each night. Fruits and veggies containing vitamin C, fish and seeds can help boost your child's immune system. Talk to your child's healthcare provider about supplements that promote good health.
While there's no guarantee we can keep our kids illness free, we can take some simple steps to increase their chances of staying healthy.