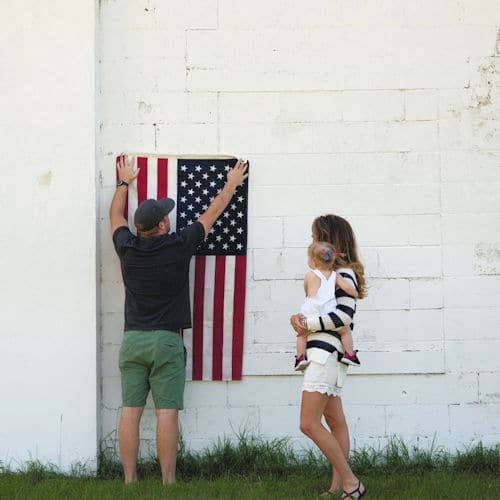 235 years ago, on July 4, 1776, representatives from 13 of England's colonies signed the Declaration of Independence in Philadelphia, Pennsylvania. This day marked the birthday of the United States of America and a clear separation from the country of their origin: England.
Ever since that historic day, Independence Day has been celebrated as the birthday of a free country and the severance from an oppressive way of being. From old records we see that the traditions of the celebrations, i.e. parades, picnics, and fireworks, were well established by the early 1800s.
As Christian parents, we are commanded to pray for our country, to be subject to our rulers (Titus 3:1) and pray for them (1 Timothy 2:1-2), and not to speak evil against them (Acts 23:5). Since we are also admonished to teach our children about God's commands, by extension, this means that we are to bring up our children with a healthy respect for governing authority, the offices of such authority, and for the country in which we live. This July 4th is a great opportunity to begin putting these Scriptures into practice. To this end, here are some practical suggestions on how to raise a proud, and spiritual, American child:
Purchase some flour, salt, water, red & blue food color, three squeeze bottles (like mustard bottles) and heavy paper or card board. If you help your children to mix equal parts of the flour, salt and water, you will create some puffy paint. Assist your children to use the food coloring to color one batch red, another blue, and leave one white. Fill each of the three color mixes into its corresponding squeeze bottle and then use the bottles to squeeze the puffy paint onto the cardboard or heavy paper. The children can make any designs they like, such a flags or stars which they can then cut out and give away, or they can work on one really big design, such as an American Flag, you could then proudly display on the 4th of July. Once dry, the designs will be slightly raised and sparkle.
Help your child to tear up a total of 50 red, blue and white small pieces of paper. Then help your child to write the name of each State of the Union on one piece of paper. Take a big piece of black cardboard or construction paper and put a big aluminum foil cross in the middle. This cross symbolizes God's sacrifice for each and every person who lives within each State. Next, help your child to glue the small pieces of paper all around the cross. Make it a bedtime ritual to pray for one State each night. This will help your child to learn compassion for those s/he doesn't know personally, and also to learn a little bit about each State as s/he prays for/about it. Purchase some strawberries, bananas/pears, and blueberries. Also purchase some toothpicks and several disposable plastic trays. Allow your child(ren) to help you to clean and slice the fruit (if it is age appropriate for them to handle a knife). Ensure that each of the slices are about the same size. The child(ren) can now place a strawberry, a piece of banana/pear, and a blueberry each on a toothpick. Make enough such toothpicks to fill up the trays you bought. Then make arrangements for you and your child(ren) to take these plates to visit the senior citizens at the local nursing home. This will teach children not only compassion, but also will teach them to be giving of their time and resources to others.
Craft an Independence Day card for the President, your Senator or Representative, or member of your local government. It is unimportant if the person will read the card or respond. What is important, is that you and your child together will think about the name of the person, you will be able to tell your child a bit about the person and her/his job, and together you will seek for a way to encourage this person, thus truly living out the scriptures. Preparing the craft, putting it in an envelope, and taking it to the post office will get your child in the spirit of her/his God-given civic duties, and thus will make this 4th of July very meaningful!