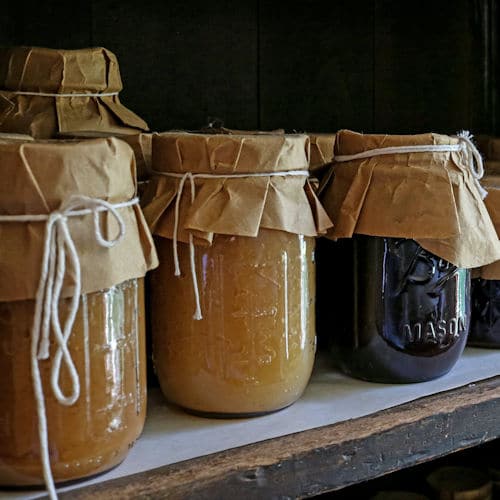 August is harvest time for many of us home gardeners. While some of our vegetables start showing up in July, the full brunt of all that we planted usually overwhelms us in August. Have you been blessed by the zucchini fairy in your community yet?
Time to learn how to can, or "put up" your produce. Preserve your bounty and stretch it out to last throughout the year. Don't have a bounty from your own garden? But even non-gardeners can make preserves. Just head to your favorite farmer's market and stock up on whatever is plentiful.
Don't know what to preserve? Start with the garden, what is overflowing? What generous gifts are your friends refusing, because they have too much already? And what are your gardening friends trying to unload? There are recipes for everything, all you have to do is search for the main ingredient. And you don't even have to spell zucchini correctly to find 101 ways to use it!
Look at your pantry. What do you buy in cans or jars at your local supermarket? Does your family like to eat pickles, jams, jellies, canned fruit in the winter? You could make your own applesauce and can enough to last all winter after a trip to a local orchard.
Or is spaghetti sauce your go-to staple? Can those tomatoes, even if you have to buy them from the local farm to get enough to last you a few months.
Recipes for canning abound on the internet, along with instructions. Or, you could try getting a friend or family member to share their recipes, even some hands-on training. Preserving shouldn't be done alone, anyway. Many hands make light work. And this is something that the whole family can enjoy together.
For the beginner who just needs a tutorial to get started, Epicurious.com may have all the instructions you need. Many more recipes can be found on blogs such as Canning Across America and Food in Jars. For anyone who just wants to sit on the sofa and read the whole story, the Ball Blue Book Guide to Preserving is probably your best place to start. Of course you can also find plenty of books on the subject, complete with recipes, at your local library.
Don't forget about your freezer. Some vegetables taste garden fresh for months after a proper freezing. And in addition to all the blog entries and web sites, there's also the video tutorial for those who like to see how it's done, and how it should look.
So make some room in your freezer, shove aside the store bought cans in your pantry, and put up some of your own. You'll be savoring the fresh flavors of the season all year long, saving money at the supermarket, and passing on useful homemaking skills to your family.