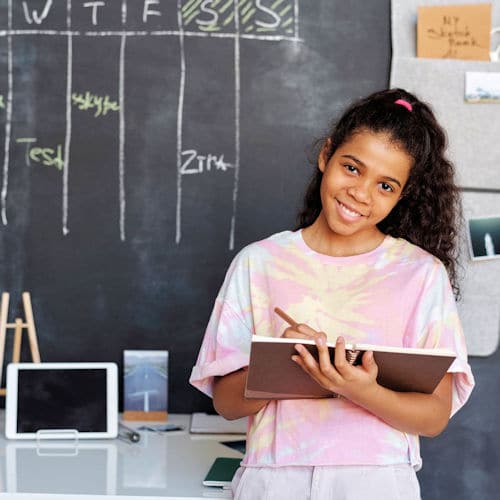 By having a regular plan to complete homework, you will:
Avoid conflicts over when it is time to do homework
Know where materials are kept that are needed for homework
Eliminate unnecessary distractions that prolong completion of homework
Establish a positive environment that encourages children to work hard academically
Pick A Spot
The first thing to do is to have a designated place in the house where homework is to be completed. There are different areas that work in different households, depending on the sizes and needs of each family. Some children are expected to complete homework in a family area, such as the kitchen table.
This enables a parent to be on hand to answer any questions and monitor progress; however, this arrangement also can be very distracting for children, especially if there are other activities going on at the same time. Children can also have a homework area in a bedroom, den, or family room, if the kitchen is too busy.
Stock It Up
Regardless of what room you have space in, there are certain things that will greatly help your child complete his or her work. There should be a desk or other large writing surface that has a lamp which gives appropriate light for reading and writing. There should also be holders for regularly needed materials such as pencils, pens, highlighters, erasers, rulers, scissors, glue, crayons, markers, pencil sharpener, and paper.
Having these materials on hand eliminates the chance your child will procrastinate even more while they look for their supplies. You may also choose to have a dictionary, thesaurus, and stapler. All of these materials should have a "home" in the homework area, so that when they are needed they are easily found.
Clear The Distractions
Likewise, there are certain things that should not be a part of your child's homework area. Televisions should not be a part of any planned homework area; radios, personal stereos, hand held video games, and other electronics should also be kept away.
Computers, while often very helpful in the completion of research or other fact-gathering, should be closely monitored by an adult, so you may choose to have the computer in another area of your home. Also, calculators should also be part of the homework area only on an as-needed basis. It can be very tempting to make math homework much easier by sneaking a peek at a calculator.
Children may complain about removing many of these objects, but each of these can lead to more time being taken to get the job done.
Make It A Habit
When a homework area has been established, create a routine regarding your home rules for doing homework. Contrary to what many students believe, teachers generally do not advocate children doing homework as soon as they get off of their bus. Like any adult coming home from work, children should be given some time to unwind from their day with a snack, some music, or a quick game outside.
Then, there should be a set time when homework begins. By having this regular schedule, children know what is expected of them, and over time, will settle themselves accordingly. Times can be adjusted to meet the changing needs of your family's schedule, but consistency in this will bring the best results for everyone. When homework has been completed, be sure that there is someone responsible for giving it a quick check to be sure everything is completed well and that it is repacked for the next school day. Having these types of routines for your children can help to avoid arguments as well as forgotten homework.
Good planning helps make homework easier for everyone!