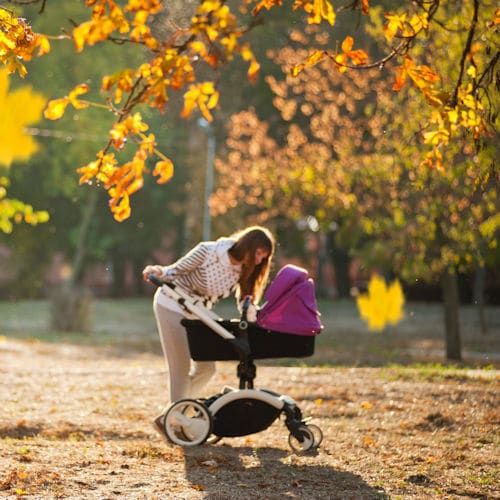 As a career nanny with more than 15 years of experience exclusively working with families of multiples, it should be no surprise that when it comes to baby gear for multiples, I consider myself somewhat of a guru.
In fact, I've seen the lives of moms and dads of multiples literally transformed once they were properly equipped to be parents on the go. I've seen the depression lift from moms faces as they discovered getting out of the house on your own with two babies is fairly easily, once you have the right gear, and I've seen new dads radiate with confidence and pride as they discovered they could manage on their own with two tiny ones in tow.
The secret to these transformations has always been to introduce them to the "must haves" for parents of multiples. For parents of twins, for example, when it comes to strollers, my recommendation has always been that they need two: the Double Decker Twin Stroller and the Maclaren Twin Triumph. No parent of multiples I've worked with has yet to disagree.
So with all of my know how and experience, you would think that finding the perfect stroller to cart around my own toddler and newborn-to-be would be a fairly simple task. It certainly wouldn't be a challenge, right? Wrong.
As I began researching my stroller options, I was quite surprised at the difficulty I would have in finding "the perfect stroller" for a mom of two under two. I knew what I wanted, no question. I was in search of a side by side stroller that would accommodate one infant car seat. I wanted the infant seat to snap in (not use a universal adapter with a belt to hold it in place) like it did on my favorite all-in-one single stroller, the Uppa Baby Vista and I wanted both seats to have a five point harness system with independently fully reclining seats like the Maclaren Twin Triumph.
As I experienced disappointment after disappointment shopping for the perfect stroller to hold an infant seat and a toddler, I wondered how other parents in the same boat felt. What I found from talking to moms and from reading double stroller review after review was that most parents felt they were simply settling for a stroller that got the job done. Their strollers weren't perfect, but they worked.
For me, settling wasn't perfection and so my research project became much more. I began reaching out to different stroller manufactures and distributors who seemed to have some of what I was looking for.
While I still haven't found the all-in-one double stroller that has exactly what I was looking for, I did find some options that I would be satisfied with. I also discovered (thanks to getting feedback from a few of the folks at different manufacturers and distributors) that a side by side that accommodates an infant seat may not be easily available because of a potential tip hazard due to unequal weighting. Because of this news, I have began to slowly embrace the idea of a tandem seating stroller, provided the seats are in stadium fashion like that of the Double Decker. I also learned that many manufacturers are moving to the universal car seat adapter (the one that has a strap to hold it in place) rather than using propriety adapters for cost saving reasons and for practicability. I also realized, like with multiples, I'd be best served with two strollers: a double stroller that accommodated an infant car seat and a lightweight umbrella stroller.
As a parent and as a recommender of many baby products, safety is always my number one concern. I was fortunate enough to be able to share my honest reviews with the folks at each of these companies, ask lots of questions and make specific recommendations based on my experience with their products and with others. I was able to share what I consider valuable insight (like many parents would pay an additional $10-20 dollars if your stroller had a five point harness system) and learn about why some are the way they are.
The following strollers were provided for review purpose at no cost to me.
Kolcraft Contours Options Tandem
This stroller has the look and feel of a luxury stroller, but at its price point ($250), it's an affordable option for many moms of two. The smooth frame, comfortable fully reclining seats (both can be faced forwards or backwards - or they can face towards each other) and the adaptability to accommodate children from birth to 40 pounds make for great selling points. The hold-on handles are an added bonus for moms of toddlers who like to walk as you stroll, but need a tangible reminder to stay close. For a longer stroller it's easy to maneuver and offers a smooth ride, but for a compact fold, you'll need to remove one of the seats. If you're looking to invest in one stroller to accommodate your growing family, the Kolcraft Contours Options Tandem is a good choice.
I liked: The way it looked, the versatility, the style and comfort of the seats, that the seats reclined and that they could accommodate children birth to 40 pounds. For the price, parents will get a lot of mileage out of this stroller.
I didn't like: That you have to take a seat off of the frame to get a compact fold (although I should say it is really easy to do) and the universal car seat adapter.
Jeep Wrangler Twin Sport
For parents of multiples (or an older infant and a toddler) who are looking for a lightweight, umbrella stroller that comfortably seats two, the Jeep Wrangler Twin Sport All-Weather is where it's at. This is the stroller parents of two don't realize they truly need until they've tried it out. Lightweight, compact and easy to fold and maneuver, parents who spend lots of time getting in and out of the car will appreciate the ease of use and transportability of the Twin Sport. The independently reclining seats and cool-climate roll-ups turn headrests make the Twin Sport a comfy ride for children up to 35 pounds. While young infants may ride with the seat in its fully reclined position, replacing the 3 point buckle with a five-point harness would be a much welcomed feature. For its price point of $120.00, it's an attractive and affordable option for many parents of two.
I liked: The price point, that it is compact and great for everyday use, that has independently reclining seats, and that it is a lightweight umbrella stroller.
I didn't like: That is has a 3 point harness system and that the canopy doesn't seem to stay on with the stroller is folded.
Joovy Ergo Caboose
Everyone knows that toddlers don't like to sit still. For this reason, it's super important that parents of toddlers who are expecting their second child choose a double stroller that is functional, flexible and toddler friendly. This is one well thought out, well made beast! Perfect for parents with toddlers who don't like to stay in one place for too long, the stroller allows them to go from sitting, to standing to strolling alongside with no effort. Easy to maneuver and full of storage space, the stroller comes with (read you don't have to purchase separately) a universal car seat adapter, allowing you to accommodate a newborn infant carrier and toddler with ease. With the comfortable Ergonomically Engineered Front Seat, contoured back seat and Stand-on tandem, this stroller will certainly accommodate growing children within a growing family. Weighing in at a hefty and heavy 30 pounds, it's surprising how effortlessly the stroller glides across the ground. The Pneumatic Rear Wheels definitely make for a super smooth ride fun.
I liked: That is looked and felt like you were driving the Cadillac of strollers, the versatility of seating options and the tires.
I didn't like: The universal car seat adapter.
So at the end of this phase of my research, I've come to the conclusion that unlike with single strollers, there is no one-size-fits all double stroller for two under two. The double stroller that best accommodates an infant seat and a toddler may not be the best double stroller that accommodates two under two once the infant seat is outgrown.
As for my official recommendation to parents of two under two, it isn't as clear cut as it is for parents of multiples. Each parent, like myself, will need to prioritize what they'd like to have in a stroller and make their purchasing choices based on that.
Until someone knocks on my door and wants to design the perfect one, that is.