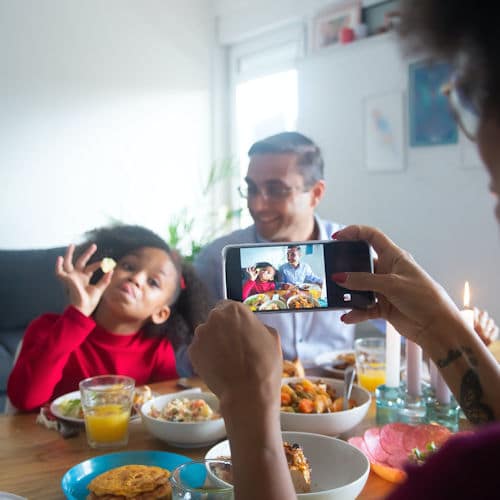 It's every parents desire to capture the magical holiday moments on film, but often, photographing kids just isn't that easy. The good news is, with a little patience and a lot of trial and error, you can capture the perfect photo this season.
As a nanny and now as a mom, I've had lots of practice taking photos of children. Although I am by no means a photo pro, I've discovered some tips that make photographing kids a whole lot easier.
Whether you're trying to capture the perfect picture for your family's holiday card or an image to apply to a photo mug for grandma, or if you're simply trying to score a few good photos for your family album or scrapbook, the next time you plan a photo shoot with the kids, keep these 10 tips in mind.
Choose a time when your child is naturally at his or her best. Well rested and well fed children make the best models. Most babies and young children do well after their morning or afternoon nap and a light a snack. Plan your child's photo shoot for a time when he is well fed and well rested.
Get down to your child's level. When photographing your child, it's important to get down to his or her eye level so the photo is taken from your child's perspective. You'll also be better able to capture your child when he or she isn't straining to see you.
Experiment with different angles. In addition to shooting your child straight on, experiment in photographing your child from different angles. Try to take profile shots of your child, shots when you're lying down shooting up at your child and shots from slightly above your child. We all have our good sides, you know!
Take close ups. Zoom in to capture your child's details. Close ups of chubby hands and tiny toes make great photographs!
Choose simple backgrounds. Choose a background that is free from clutter. I love to photograph my daughter at the park or at the beach, where the background is vibrant and clean.
Take advantage of natural light. The best time to photograph in natural light is just after sunrise or just before sunset. Photographing during these times will help to avoid capturing shadows and will provide the ideal light for photographing your child. If you are photographing inside, place your child near a window, rather than using the flash.
Consider black and white photos. Children don't always have perfect skin. Black and white photos can capture your child's beauty without calling attention to the blemishes.
Opt for simple clothes. Remember that you want the focus of the photo to be on your child, not on what he or she is wearing. Choose simple, well fitting clothing that won't distract the viewer. Solid color clothing is always a good option.
Consider using props. Baskets and other sturdy props can be great to place your baby in (be sure they are safe and lined with a blanket to protect your baby's skin). Kid sized chairs are great for keeping toddlers still.
Be patient. If your baby senses you are uneasy or frustrated, you'll see it in the photos. Relax and enjoy this special time together. Take lots and lots of pictures and you'll be sure to score the perfect one.