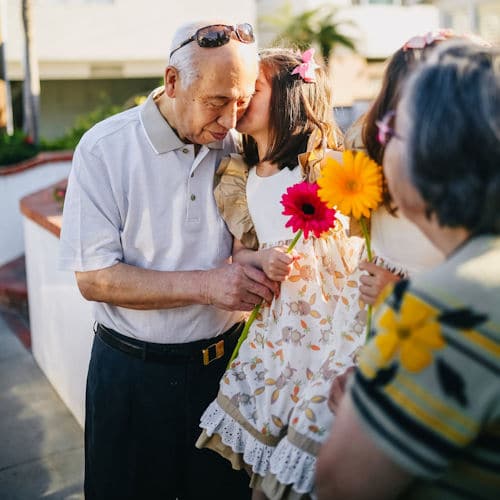 September 9th is Grandparents Day. I was lucky enough to have four grandparents living close by when I was growing up. My own kids started out with five (a bonus grandmother!) but our family is now spread out.
While my own grandparents were within a decent bike ride to fresh baked cookies, my boys only get to spend time with their grandparents when we make the time for a long trip, usually only once or twice a year.
Thank goodness for the internet. Between Skype and email, they can keep in touch with their grandparents regularly throughout the year. They just have to remember to check their email.
I remember my grandparents were great storytellers. Simply by virtue of growing up in a different time, a different place, their stories were always interesting. Grandparents hold our history in their memories. I grew up hearing stories about spilled milk intertwined with the Great Depression, or baking with rations during World War II. I always enjoyed hearing about my parents' exploits as children, and my children are no different.
Once, for a school project, I recorded an interview with one of my grandfathers. My grandfather has been gone for a long time now, but I still have that recording. I can play for my own children one of his favorite stories, how as a young boy on his journey to America, he missed the boat and had to wait several days for the next ship. And while I don't have it on video, I can still remember the sparkle in his eyes as he told us he missed the Titanic.
It's very likely that today's kids have easy access to video cameras, if only a cell phone that takes video. While looking for interesting subjects to record, a family storytelling session may be just the thing. Whether their grandparents have had brushes with any famous people, or places, or just their own everyday experiences, the stories from our elders are memories to treasure for generations.
If you're wondering how to get started, the National Grandparents Day web site has a list of sample interview questions . And if there are any great-grandparents available, then certainly include them. There's no reason not to make it an annual family holiday, complete with a feast. Gathering the family together to share stories, and recording those stories for future generations can be a fun tradition to share as our children grow up and eventually have families of their own.
And that's what family is all about, sharing our stories and treasuring our memories from one generation to the next, always looking to the future.