Family Online Magazine
Welcome to Families Online Magazine! A family-friendly site! Get advice from our parenting, health, and child development experts. Enjoy our crafts, recipes and family vacations. And read our reviews of the latest products and services that can improve the quality of life for you and your family. We offer articles about parenting, child development, health, politics, entertainment, sports and help to answer those important questions, What's for dinner? and Are we there yet?
In The Kitchen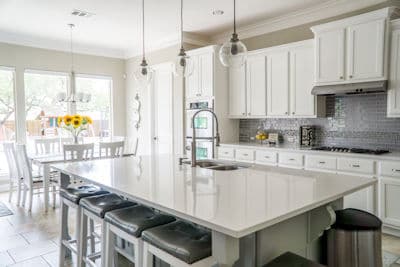 The kitchen is arguably the most important room in a home. As people who eat regularly, the importance of a good kitchen and the appropriate gear is paramount.
Meals are prepared in the kitchen – everything from a quick bowl of cereal to a turkey dinner with all the trimmings – which means it needs to be functional. That includes plenty of storage space for plates, bowls, pots, pans, and bento lunch boxes. The best cookware sets, including cast iron cookware, induction cookware, and ceramic cookware, can take up a lot of space. An overcrowded kitchen area can be a frustrating space.
In addition to room, a modern kitchen will have adequate space to clean the items used to prepare your meals, and also the plates and dishes that serve them, as well as the utensils (like these kitchen knife sets) used to eat them. While most every kitchen includes a sink, stove, and refrigerator (hopefully with room for a water filter pitcher), many find that a good automatic dishwasher is the next appliance they add to their space.
But that is in no way a comprehensive list of appliances. There are so many other kitchen items available, like electric tea kettles, toaster ovens, food processors, and juicers. Even task-specific appliances like air fryers, panini presses, bread machines, and Belgian waffle makers are essential items to some home chefs. Pressure cookers are also important items, if you are into canning fruits and vegetables.
There is no doubt that the kitchen should be a significant area of focus for most homes.

In The Bedroom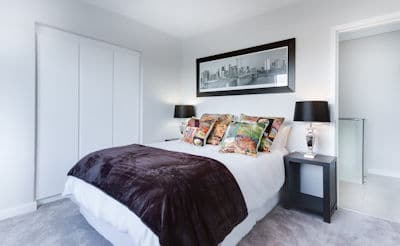 Given that we spend roughly a third of our lives sleeping, bedrooms are also very important rooms for any family. Ensuring that everyone has a comfortable place to sleep along with enough storage space for their clothes and other personal items should be a primary concern for any parent.
When people think about comfortable beds, their first thought is usually about the mattress. Of course mattress quality and comfort have a huge impact on how you sleep. But sheets, pillows, and blankets also contribute significantly to the amount of rest you get at night. Specialty pillows – like memory foam pillows for side sleepers and pillows for neck pain – can really help those with pain and discomfort get a good night's sleep.
Closet space seems to be an issue in all but the most spacious homes, so having a good storage system setup can really maximize your storage capacity. These days you can find specialty products for those with lots of ties or an abundance of shoes, to help keep your closet and bedroom from being overrun.
Air quality is also very important for good sleep, so make sure you have a good cool mist humidifier to keep things from getting too dry.
In The Bathroom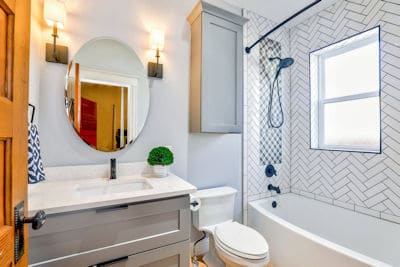 The bathroom can be an overlooked space for some people when they first look at buying a home. But once you have lived in a home or apartment – especially if you have children – you recognize how important the bathroom is to daily life for your family.
Using a tiny shower is really unsatisfying. It can be okay to have a small shower stall in a second bathroom, but most people will want a big main shower that gives them room to shampoo their hair and shave their legs without pressing up against the walls. Having a good shower head with solid water pressure is also a great feature for any shower.
While showers are great for getting clean, if you need to relax after a tough day of earning a living or chasing the children – or both – nothing beats a long soak in a warm bath. Many modern bathrooms incorporate both a shower and soaking tub to meet those relaxation needs. Add in some soft lighting and an essential oil diffuser and you can get a spa treatment right at home.
Proper cabinet space in your bathroom will ensure all the various creams, lotions, soaps, shampoos, and other beauty items are handy but not under foot. Incorporating some storage space for towels, toilet paper, and other cleaning supplies will round out any bathroom into a functional space.
Of course, some people prefer more rustic bathroom accommodations. For them, a composting toilet is the perfect bathroom accessory.
Around The Home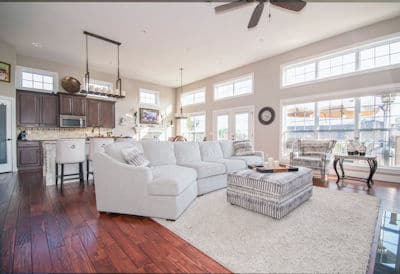 While the kitchen, bedrooms, and bathrooms are important, they are by no means the only areas of your home to consider. A lot of living goes on in other rooms in your house, as well as out in the yard and garage.
Keeping those areas clean and fresh can be a challenge. If you have smokers in your home, an air purifier for smoke can make the atmosphere bearable for those who do not. The same goes for those with pets – the smells and surfaces are greatly affected by animals. That is why having brooms, mops, and a good vacuum for stairs is critical to keep things neat and tidy.
Having comfortable furniture is another way that parents can make sure their home is welcoming to both family members and guests. Soft chairs and sofas can ensure that everyone feels comfy whether they are visiting or permanent residents.
Family rooms are used for everything from doing homework to playing video games and even exercising. So a good table and chairs, a gaming chair or two, and a yoga mat and can equip your family for their daily routines.
Garages are like a world of their own. They are more than just a home for vehicles – they also hold tools, outdoor equipment, recreation items, and toys for the kids. For that reason many garage-specific storage solutions exist – so that you can make the most of every area of your home for your family.
Last Updated on